Commission Service
Here are commission works that I offer!Click on image to see info
Illustration
Illustration Commission Base Price
| Illustration | Sketch | Basic Color | Full Color |
| --- | --- | --- | --- |
| Emotes/chara | - | - | 10 USD |
| Headshot/chara | 5 USD | 10 USD | 15 USD |
| Half Body/chara | 15 USD | 20 USD | 50 USD |
| Full Body/chara | 20 USD | 50 USD | 100 USD |
| Live2D asset/chara | - | - | 200 USD |
| Additionals | | | |
| Chara sheet | 100 USD | | |
| Background base | 100 USD | | |
Live2D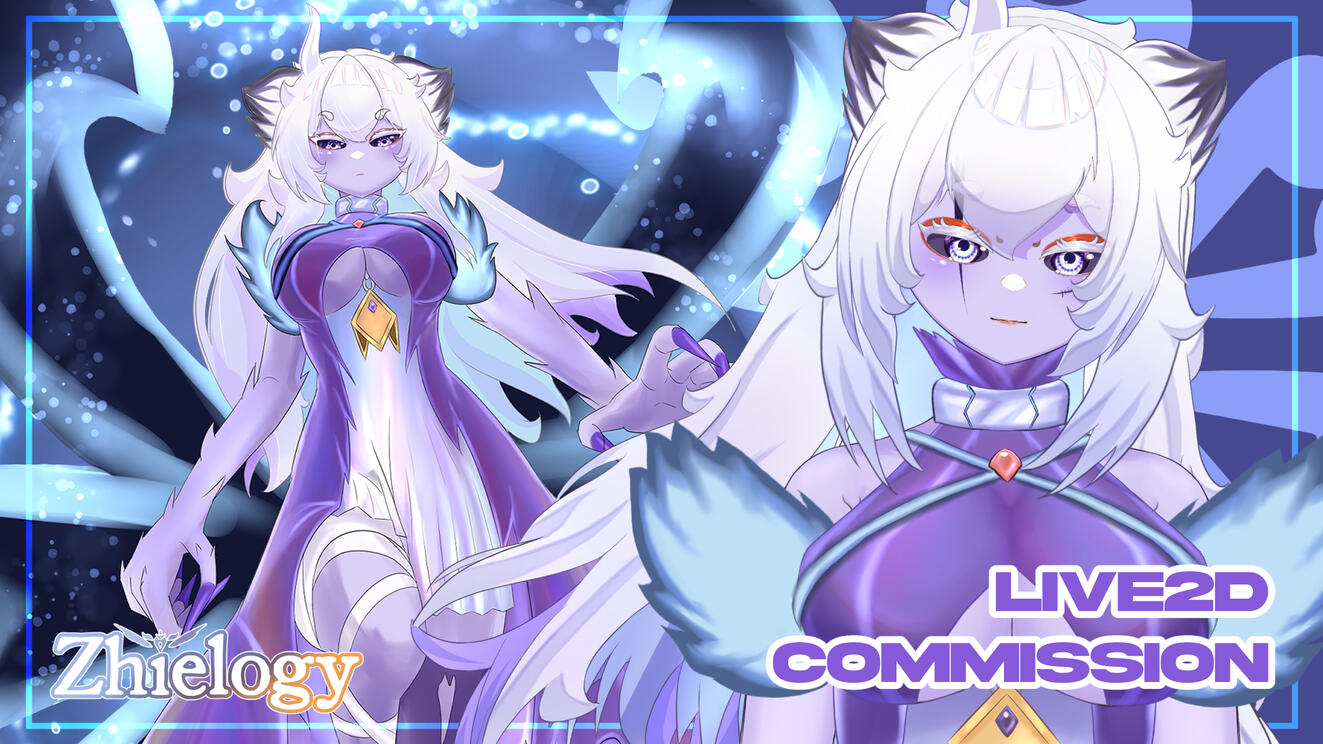 TIER 1 SAMPLE
TIER 2 SAMPLE
TIER 3 SAMPLE
Live2D
Tier 1
Tier 2
Tier 3*
Base price
400

200 USD

600

300 USD

1000

500 USD

Head movement
✓
✓
✓
Eye movement
✓
✓
✓
Mouth movement
✓
✓
✓
Vowel mouth movement
-
✓
✓
Body movement
-
✓
✓
Puff cheek
-
-
iOS only*
Face Angry
-
-
iOS only*
Tongue Out
-
-
iOS/android only*
Mouth X
-
-
iOS/android/RTX only*
Hand tracking
-
-
PC/Mac only*
3 Free slots for expressions
✓
✓
✓
Physics
✓
✓✓
✓✓✓
Additionals
Extra expression/each
10 USD
Animated toggle/each
20 USD
Cutting/parting per model
20~150 USD
Character design and asset
100 USD
Movie animation/15 secs
30 USD
*for more info about tier 3 please have an inquiry
Q & A
Make sure you read this page before proceeding with your order~!

What is your term of service?
You can check our term of service hereHow can I order your commission?
Please refer to diagram above. when you make an order, please go to order page and click the link available to fill your commission form. Following your submission you will need to put downpayment for your order based on the type of commission (please refer to service page), and after that I will proceed with the work. After finishing my work, you will review your order for any form of revision, and last you will complete the payment and I will give you the full finished commission.Can I order right away?
For your convenience, please contact me in advance because I may not accept your order for some reasons. But once you put your order, you don't need no worry!Is there any queue?
Yes, I will do order based on queue. Once you give a down payment you will be put on waiting list immediately.
If you are in a hurry I will charge priority fee depending on the difficulty of the commission.How long does it take for my order to finish?
I do this in my leisure time, but I do my work approximately 1 month prior to time I started your work per model. I will also keep in contact with you during that time so you will have no worry!How do I pay?
I accept payment through paypal. I will send you invoice so all you need to do is pay! No need to count stuffs!
*note: If you are Indonesian, I may provide you with a direct transfer but since the account that I use is not mine, I encourage you to use paypal as a payment method as well.Is there anything that I cannot order?
I accept almost all model. Please bear in mind that I will only use my preferred style for the job. For other details you can talk to me first before putting your order!How many revisions I have?
I understand sometimes we have a change of mind regarding our desired design, so you can revise as much as you want! Unfortunately, once I started asset-making (or rigging for rig only) I would charge additional price for that.May I cancel my order?
You may cancel your order, but your downpayment will not be refunded unless there is any form of written agreement over your commission that states otherwise.
order
If you have make sure of your order, please click the link below to submit your commission~!By submiting your commission you are agree to our terms of condition